Get more in-app feature usage in seconds.
---
Server-side marketing tools for the modern Product team.
In-App Messages
Show messages in your app for a URL or after a user does something. Bonus: Write HTML in the message text!
Tours
Guide users through your features with a series of info steps. Bonus: Write HTML in the message text!
Tooltips
Callout an element on the page for your users to look at or click on.
Banners
Show persistant messages you need your users to read.
Badges
Subtle callouts on page elements to get more user attention.
Feature Flags
Turn On/Off features without deploying. Use lists to give specific users a feature. Safely rollout new features with % rollouts.
White & Black Lists
Add anything with a unique ID to white or black lists to control who sees what.
Analytics
Know how many users saw all your marketing and who clicked on your calls to action.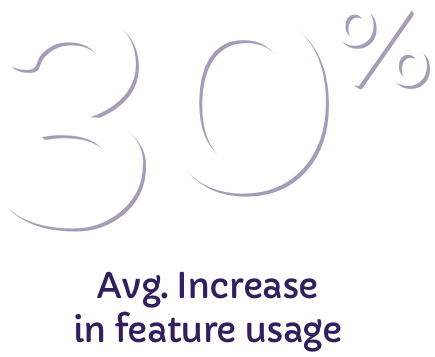 Get the usage numbers you want
When Designing, Coding & Releasing is your full time job. It's easy to forget:
"How will we get users to use this feature?"
Show & Tell helps you get feature adoption.
Start Your Free Trial
---
Message at the right time
In-App Messages & Banners showcase new features or things to learn.
Guide users to features
Tooltips, Tours & Badges nudge users into new actions.
Stop waiting to deploy code.
Free your team with 100% server-side controlled tools.
Feature Flags
Turn features on/off without deploys. Pick which users see your new feature. Slowly rollout a new feature.
Marketing Tools
In-app Messages, Tooltips, Tours, Banners & Badges launched instantly with a click from your Product or Design team.
Super Fast. Super Reliable.
Giving you up-to-the-second marketing powers isn't enough. We make sure our tech is fast & reliable because it's now your tech.
Speedy Response Time
We stay fast to keep your app fast.
99.9% Uptime
We use top of the line infrastructure & processes to stay up.
Try It Now
---
Sign up for free to empower your Product & Design Team without taxing your Dev Team.
Start Your Free Trial
No Credit Card Required